BRIEF PROFILE ON THE CEO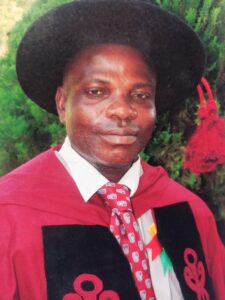 Dr Alexander Kofi Egote is a consultant surgeon urologist. He obtained his Bachelor of Medicine, Bachelor of Surgery in 1996 from St. Petersburg Medical University, Russia. He obtained his Ph.D. in medicine in 2006 from Moscow Medical Academy, Russia. Currently, he is the Clinical director and head of Urology unit at Regional Hospital, Sunyani.
         AWARDS:
February 24-25,2020 ——-Allied Academies and the Editors of Archives of General Internal Medicine, Journal of Biology and Medicine Case Report and Journal of Public Health Policy and Planning – Certificate of Recognition for Moderating at the International Conference on Medical and Health Sciences held in Rome, Italy
October 2020 Distinguished Scholar Award presented by Independent Adhoc Scientific Award Committee and the Editorial Board of European Journal of Scientific Research.
RESEARCH/ PUBLICATIONS: Twenty (20), 19 publications + 1 book
SOME SELECTED PUBLICATIONS
Bipolar Transurethral Resection of The Prostate, A New Gold Standard
A.K. Egote, L. M. Rapoport, D.G. Tsarichenko, N.A. Grigorev. Journal of Endourology
21st Basic Research Symposium. Amsterdam 2005, Page A-17(Mp10-17)
Bipolar Transurethral Resection of the Prostate versus Monopolar Transurethral Resection-Vaporization of the Prostate. 2 Years Prospective Studies A K. Egote, U. G. Alyeav, L. M. Rapoport, E. G. Aslamazov, A. Z. Vinarove, D. G. Tsarichenko, N. A. Grigorev. Journal of Endourology. Abstracts 24th World Congress of Endourology, Basic Research Symposium. 17-20 August, Cleveland, Ohio, USA page A 84 (BR4 -12)
Surgical site infection- a new approach Dr. Egote A. K. – Journal of international Association Urology, Oct. 2015Enucleation of a Giant Prostatic Hyperplasia in Ghana: A Case Report and Literature Review. Alexander K. Egote*1, Paul Poku Sampene Ossei 2, Theophilus Bortier1, John Taylor 2. Case report in clinical medicine, 2018, 7,583-593. http://www.scirp.org/journal/crcm
Book on the Best Practice in Male Circumcision 2019.Alexander K. Egote. March 2019, project ID: #9291ISBN:978-613-8-50184-8 www.scholars-press.comCopyright © SIA OmniScriptum Publishing
Egote AK, Ossei Paul PS, Ayibor WG and Egote CA. (2020). Incidence of prostate cancer at a Referral center in the Brong Ahafo region of Ghana: A 10-year retrospective study. World Journal of Advanced Research and Reviews, 5(1), 50-57.
Egote A K1*, Ossei P P S2, Ayibor W G3 and Egote C A4 Pattern and Presentation of Prostate Cancer at a Referral Centre in the Brong Ahafo Region of Ghana; A 10-Year Retrospective Study Journal of Nursing & Healthcare,2020, vol. 1 (3), 1-6